There are very few people who can be described as Legends in their own lifetime. Mostly they are sporting personalities who are constantly in the public view thanks to publicity given to the game they excel in. Fewer still are captains of industry whose names endure through the use of their products. Many business people become very wealthy and remain obscure. Occasionally one stands out for the creation of a massive business from very humble beginnings.
One of these is Lindsay Fox, the founder of LINFOX transport which has become an Australian icon stretching far beyond our shores but a household name here because of the well-known logo on its trucks.
I received a birthday gift on Saturday, a book produced for in-house consumption by the Linfox organisation. It is not available for sale, has no ISBN and no accredited author. It is a history of the organisation from its very beginnings and makes an impressive story. It is a pity it is restricted to in-house consumption. I have several such books and the same comment applies to all of them. They are tales of success that we should all be proud of.
Lindsay Fox was born in Sydney in 1937 and was raised in a working class family in the Melbourne suburb of Prahran where hard work was the norm.
Lindsay left school at an early age in the belief that a formal education was not going to take him very far. He obtained a truck driver's license at age 16 and began working for his father. He told the licencing people that he was 19 because he said that if you said you were 18 they would check up on you but at 19 they didn't bother. At 19 however, in 1956, he purchased his first truck for 400 pounds ($800), a Ford F200 which he still maintains to this day.
2014 interview - From a one-truck business, to one clocking up the miles of nearly every country in Asia, Australian business legend Lindsay Fox shares his unique story.
In 1958 he bought a second truck and created the slogan "You are passing another Fox". In the same year, he landed his first big contract with soft drink manufacturer Schweppes and expanded his fleet to 10 trucks.
In the winter, Lindsay carried 12 tonnes of bagged coal and briquettes each day and each loaded by hand. There were no forklifts then or OH&S regulations. In summer he carted soft drinks. In between his pastimes were AFL footy and the beach.
In 1960 he had to move his business from home to a bigger depot to house the expanding fleet at Moorabbin.
After a few years of playing for St.Kilda reserves and seniors, he gave footy away in 1961 to concentrate on his business. He had married in 1957 and by age 30 had accumulated six kids and six trucks. He set out to achieve more because he needed to support his growing family. He did not abandon the St.Kilda footy club, however. In 1979 he became its president at a time when the club was under financial stress and he turned its fortunes around.
His change of focus from truck driving to being a businessman soon bore fruit. He acquired a contract with the Dunlop tyre company and in 1963 acquired his first contract with Coles. Coles today remains as one of the company's biggest and longest-serving customers.
In 1966 the name was changed from Lindsay Fox Cartage to Linfox Transport Pty.Ltd.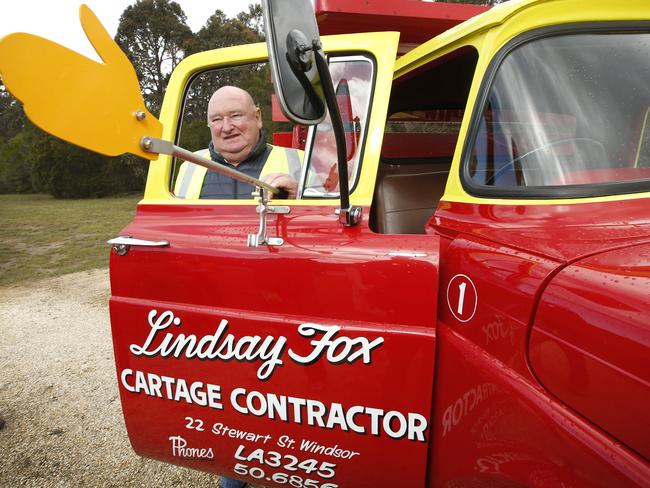 In 1968 he won the contract for Courage Breweries and doubled the fleet to 60 trucks.
The next major move was in the 1970's when the rising demand for home heating oil resulted in a contract with BP for delivery of bulk heating oil in Sydney's suburbs. Further progress was made when the company was awarded contracts from Woolworths and Coca Cola. The fleet had now expanded to 1,000 vehicles across Australia.
The great expansion of the fleet resulted in the need to establish comprehensive service facilities and the creation of warehouse facilities. Further big contracts were obtained from Carlton & United Breweries, Arnott's Biscuits and the construction materials for the new parliament house in Canberra.
In 1989 he established the business in New Zealand and at the end of the decade was the largest privately owned logistics company in Australasia and remains so today.
The 1990s saw a generational change in the company. Lindsay stepped down as executive Chairman in favour of his son, Peter, who remains in that position today. His career path had started, like his father from the shop floor and has reflected a lot of business acumen which continues to drive the business while Lindsay can concentrate on the bigger picture. By the end of the decade, the fleet had grown to 3,000 trucks, 2,500 employees and 5.5 million square feet of warehousing space. The forays into the international field resulted in operations being set up in Malaysia and Thailand followed in the next decade by Indonesia, India, Vietnam, and China. The Asian operations have become so large that a new and separate Board was created for them
The 2000 decade saw another stellar expansion into airports. In 1997 Linfox purchased from the Commonwealth government, the airport at Avalon, near Geelong. At the time, all hangers were empty and there were no regular airline services. In 2004 Jetstar commenced services out of Avalon. The airport also became a recognised International Airport accommodating a wide range of freight services, and charter services, pilot training for Qantas and the home of the International Air Show every two years.
The airport excursion did not stop at Avalon. In 2001 Linfox, in partnership with Beck Corporation acquired the lease of the Essendon domestic airport and revitalised it into a thriving commercial centre known as Essendon Fields.
The property investments were also expanded into the ownership of the Philip Island Grand Prix Circuit, the home of motorbike racing in Australia, and Australia's largest privately owned automotive testing facility at Anglesea
The ethic on which he grew his business was excellent service and innovation. He was not only a leader in the Boardroom but also maintained the respect of his employees and the unions. He was a close associate of Bill Kelty, a well-known leader of the union movement. In 1990 at the height of a depressing period for the Australian economy, they made a well-publicised tour of Australia talking with other business and community leaders and governments. Their efforts resulted in the creation of around 60,000 jobs.
Lindsay however was never a politician and showed no ambition to become one. In his own words, he describes himself in these words:-
"I guess Labor think I am Liberal and the Liberals think I am Labor, the Catholics think I am Protestant , the Protestants think I am Catholic and the local rabbi delivers me matse. So, I guess the bottom line is I'm an Australian."
Matse is a Yiddish word meaning unleavened bread.
Lindsay has been an advisor to governments on the problem of youth suicide and serves on the board of The National Advisory Council on Suicide Prevention. In 1992 he was appointed an Officer of the Order of Australia and in 2001 was awarded the Centenary Medal. In 2008 he was advanced to Companion of the Order of Australia in recognition of his services to the transport industry and the promotion of youth traineeships.
Linfox today is one of the largest, if not the largest, privately owned business enterprise in Australia.
It is run by three boards of directors, the oversight of the major executive board led by Peter Fox, the ANZ board covering Australasia led by Annette Carey and the Asia board led by Gabby Costigan. The group employs over 23,000 people, and has 6,000 trucks operating in 11 different countries.
If it were a public company its achievements would be made widely known via the annual reports required by law and ASX rules. Unfortunately being a private company means it remains "Private". One of the advantages of the private status its boards are not infested by accountants, lawyers and professional company directors nor does it lurking in the background the modern scourge on progressive business; the fund manager. It is run by people who are hands-on with hands on experience. Peter Fox recalls when, as a youngster, his job was to shine the wheels of his Dad's trucks with Silvo for pocket money. Dad took pride in keeping his trucks clean and that pride is evident today because one never sees dirty Linfox trucks.
Lindsay, the man, is still active in business today He can look back with pride at his life achievements and still likes to be hands-on. I recall not that long ago in a rare interview on TV how he related to the interviewer that he wanted to get his driving licence endorsed for driving a B-double so he took one to Adelaide as a learner driver with one of his licensed staff as tutor. En route they stopped at a roadhouse for a meal. At an adjacent table there was an old truckie who recognised Lindsay from his driving days.
He said "Struth Lindsay, things must be pretty crook if you have to get back behind the wheel."
Lindsay's strength is that he can always relate to the working man. He has pursued a policy of always engaging staff as employees rather than sub-contractors. He is the epitome of Harry Truman saying "The buck stops here".
He may even be the Last of the great entrepreneurial pioneers who started out with only two assets; a determination to succeed and a respect for hard work.
Perhaps the most enduring compliment to the man comes from Paul Simons, the well known CEO of Woolworths in the 1970's when Lindsay won his first contract with the giant retailer.
" No matter what the deal, it was always done the same way- with a handshake. Once you shook hands the deal was done."
Lindsay Fox, founder of the Linfox Group shares his top tips on how to prepare for a successful negotiation, where both parties are left feeling comfortable with the outcome. Our Global Leaders Faculty is comprised of over 250 figures from the highest echelons of public life, including former Presidents and Prime Ministers, international diplomats, CEOs, entrepreneurs, philanthropists and business innovators. These individuals have shared their unique experiences and practical expertise with Ducere, on topics such as leadership, innovation, entrepreneurship, critical thinking and crisis management. These insights have been woven throughout our online course content and curriculum so that students can relate their academic studies to practical and industry-relevant case studies at every stage of their education journey.
A great Australian and a great Australian enterprise in every sense of the word.
I feel privileged to have acquired this book and pay my respects to the authors with apologies for plagiarising parts where necessary. It's a story that deserves to be told.
He could make a great Governor General.
BLOG COMMENTS POWERED BY DISQUS