We have so many Veterans taking their own lives and disappearing into a sea of despair, that I have to wonder if there is an answer that is right in front of our noses?
On the 13th of March each year, we mark World K9 Day. The day that the world is supposed to celebrate the gift of loyalty and dedication that our four-legged friends have given to our Military men and women. Our canine friends have fought beside us and stood beside us and comforted us in times of trouble and we are increasingly, as a species, forgetting their dedication and love and consigning them into the same bin that we place our unborn children.
We are reading more and more stories of heartbroken and dispirited Veterans who are taking their own lives.
After so many decades of service to us, surely we should recognise the role these quiet companions play in a world post-war? Are dogs the answer to the real pandemic - that of Veteran suicides confronting our Nations?
It saddens me that this Worldwide day of tribute passes without a mention on mainstream media. Let us ensure that does not happen this year.
National K9 Veterans Day is commemorated on March 13 on the official birthday of the US Army K9 Corps, which was formed in 1942.
Sergeant Stubby, a short brindle bull terrier mutt, was officially a decorated hero of World War I. The award was not a formal U.S. military commendation, but it symbolically confirmed Stubby, who'd also earned one wound stripe and three service stripes, as the greatest war dog in the nation's history.
It was way back in the year 4000 BC that dogs were taken into war.
The story of dogs in warfare is an old one, stretching back to antiquity. Dogs were part of Attila the Hun's forces in his fifth-century European conquests. In the Middle Ages, knights outfitted dogs with canine armor; Napoleon used trained dogs as sentinels in the French campaign in Egypt.
Many of the countries involved in World War I had war dog training schools in place prior to the conflict. France, Britain, Belgium, Germany, and Russia all recognized the value of trained dogs on the battlefield. The conventional wisdom favored pedigreed dogs: Jack Russell terriers for chasing rats out of trenches; German shepherds, Chiens de Brie, and Alsatian sheep dogs for sentry duty. Airedale terriers were considered good messenger dogs. Siberian huskies, naturally, were relied on for transport.
Dogs were also a key part of the Red Cross' aid efforts, and every country had its own unit. Red Cross dogs, also called sanitary dogs or Sanitätshunde by the Germans, negotiated battlefields and no-man's lands to aid wounded men. Saddle bags stocked with water and medical supplies were strapped to their backs. Because they wore the Red Cross symbol, these dogs were, in theory, protected from being shot by the enemy. Often, the dogs simply provided comfort and a warm body to dying men on battlefields. source
A Marine and his dog protecting each other as they slept
I have to wonder if perhaps these wonderful friends who snuggle beside us, sense our pain and love us unconditionally could perhaps be vital friends in the rebuilding of broken lives once our Veterans return from active service?
Surely their service and dedication should not be confined to the battlefields of war but also embraced in times of trying to regain some peace?
I know a man who recently lost his wife and would be in a dark place were it not for the love of the dog that sleeps beside him each lonely night and he reaches out in times of anguish.
It is my opinion that every veteran who suffers from that awful feeling of loneliness and grief could well benefit from a friend who seeks not to analyse him, question his actions or condemn him for things done while following orders - surely, a non-judgemental friend could offer that silent support that so many seek when so few truly understand?
These days. dogs are being " put down " in record numbers.
And, to think, how many of their kin fought alongside our soldiers and perished?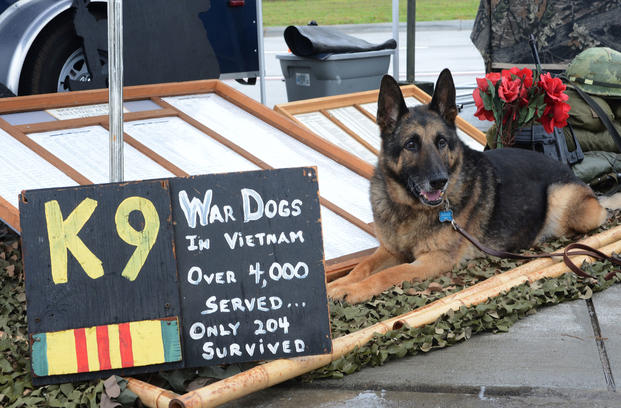 There are so many dogs who need love and homes and so many Veterans, all around the world, who also need love and homes.
Why not do this? Could they not be rescued and, in turn, rescue a lost soul who needs that quiet love that only comes from one who loves without question?
Maybe the wounded dog and the wounded soldier could heal each other through love from one another?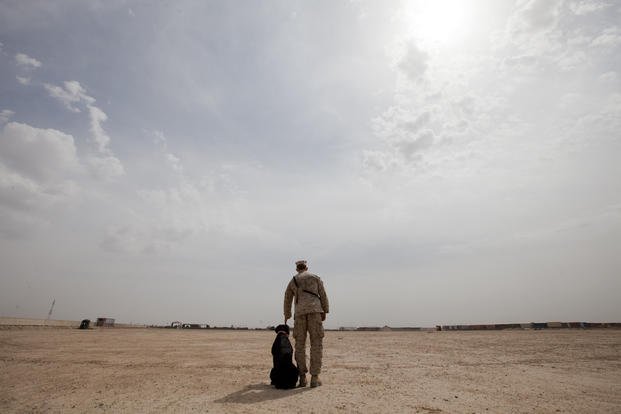 Cpl. Clint Price, a dog handler with 2nd Combat Engineer Battalion (CEB), directs Ace II, an improvised explosive device detection dog (IDD), during a training session at Camp Leatherneck, Afghanistan, March 19, 2013. (U.S. Marine Corps Photo by Sgt. Tammy K. Hineline)
"The guard dog was incorruptible; the police dog dependable; the messenger dog reliable. The human watchman might be bought; not so the dog. The soldier sentinel might fall asleep; never the dog. The battlefield runner might fail … but not the dog, to his last breath would follow the line of duty."
-Ernest Harold Baynes, Animal Heroes of the Great War
Dogs really are perfect soldiers. They are brave and smart; they can smell through walls, see in the dark, and eat Army rations without complaint. -Susan Orlean
When a dog barks at the moon, then it is religion; but when he barks at strangers, it is patriotism! -David Starr Jordan
What counts is not necessarily the size of the dog in the fight; it's the size of the fight in the dog. -Dwight D. Eisenhower
Grateful thanks to the following sources:
https://www.military.com/undertheradar/2016/06/check-out-these-17-awesome-photos-of-military-working-dogs-at-war
https://www.military.com/veterans-day/k9-veterans-day.html
https://slate.com/news-and-politics/2014/05/dogs-of-war-sergeant-stubby-the-u-s-armys-original-and-still-most-highly-decorated-canine-soldier.html
BLOG COMMENTS POWERED BY DISQUS